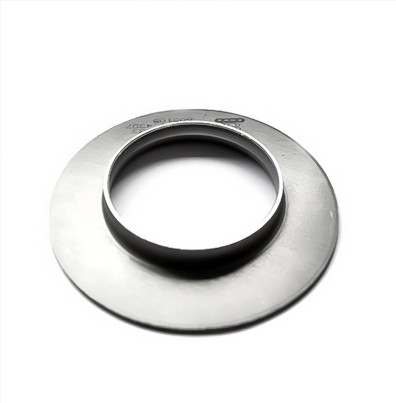 NICKEL COLLARS
Pipeline collars (flanges) are fitting elements used to connect pipes, valves and other components such as pumps or drain devices to form a piping system.
Flange connection is the most popular, cheap and easy-to-install method of joining and expanding the system, including connection with flexi hoses. There are different types of nickel collars and nickel flanges, such as welding neck flanges, blind and threaded collars and for large-diameter pipes loose flanges are used.
Most common usage of nickel collars
Nickel joining collars are usually welded while nickel flange joints are made by bolting two flages together to make a simple, cheap and tight seal. They are used to create extensive and developed pipeline systems, used in waterworks, gas and sewerage or other parts of the industrial equipment.
We supply nickel collars and nickel flanges, seamless and welded, short or long, in any desired dimension or size. All our nickel collars are made in accordance with ASTM standards and conform to Pressure Equipment Directive – ASME and MSS SP-43.
NICKEL COLLARS / FLANGES

types
seamless and welded
MSS-A; MSS-B; MSS-C
long or short
standards
ASTM B366 – ASME SB366
ASME B16.9
ASME B16.25
ASME B16.28
MSS SP-43
dimensions
external diameter: 1/2" – 24″ (21.34-609.5mm)
wall thickness: sch 5S, 10S, 40S (STD), 80S (XS), 160S (XXS) (1.65-59.51mm)
We provide product and material consulting. Let us know if you need any help!
Do you have questions? We have the answers!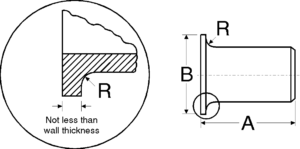 NPS
External diameter
A (mm)
R (mm)
B (mm)
Minimum
Maximum
Long type
Short type
1/2″
20.5
22.8
76
51
3
35
3/4″
25.9
28.1
76
51
3
43
1″
32.6
35.0
102
51
3
51
1 1/4″
41.4
43.6
102
51
5
64
1 1/2″
47.5
49.9
102
51
6
74
2″
59.5
62.4
152
64
8
92
2 1/2″
72.2
75.3
152
64
8
105
3″
88.1
91.3
152
64
10
127
3 1/2″
100.8
104
152
76
10
140
4″
113.5
116.7
152
76
11
157
5″
140.5
144.3
203
76
11
186
6″
167.5
171.3
203
89
13
216
8″
218.3
222.1
203
102
13
270
10″
272.3
277.2
254
127
13
324
12″
323.1
328
254
152
13
381
14″
354.8
359.9
305
152
13
413
16″
405.6
411
305
152
13
470
18″
456
462
305
152
13
533
20″
507
514
305
152
13
584
22″
558
565
305
152
13
641
24″
609
616
305
152
13
692