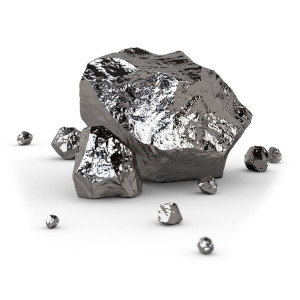 (Ti, łac. titanium) – is a chemical element with the symbol Ti and atomic number 22. It is a lustrous transition metal with a silver color, low density, and high strength. Titanium is resistant to corrosion in sea water, aqua regia, and chlorine.
Titanium can be alloyed with iron, aluminum, vanadium, and molybdenum, among other elements, to produce strong, lightweight alloys for aerospace (jet engines, missiles, and spacecraft), military, industrial processes (chemicals and petrochemicals, desalination plants, pulp, and paper), automotive, agriculture (farming), medical prostheses, orthopedic implants, dental and endodontic instruments and files, dental implants, sporting goods, jewelry, mobile phones, and other applications.
As a metal, titanium is recognized for its high strength-to-weight ratio. It is a strong metal with low density that is quite ductile (especially in an oxygen-free environment), lustrous, and metallic-white in color. The relatively high melting point (more than 1,650 °C or 3,000 °F) makes it useful as a refractory metal. It is paramagnetic and has fairly low electrical and thermal conductivity compared to other metals. Titanium is superconducting when cooled below its critical temperature of 0.49 K.
Commercially pure (99.2% pure) grades of titanium have ultimate tensile strength of about 434 MPa (63,000 psi), equal to that of common, low-grade steel alloys, but are less dense. Titanium is 60% denser than aluminium, but more than twice as strong[9] as the most commonly used 6061-T6 aluminium alloy. Certain titanium alloys (e.g., Beta C) achieve tensile strengths of over 1,400 MPa (200,000 psi). However, titanium loses strength when heated above 430 °C (806 °F).
Titanium is not as hard as some grades of heat-treated steel; it is non-magnetic and a poor conductor of heat and electricity. Machining requires precautions, because the material can gall unless sharp tools and proper cooling methods are used. Like steel structures, those made from titanium have a fatigue limit that guarantees longevity in some applications.
The metal is a dimorphic allotrope of an hexagonal α form that changes into a body-centered cubic (lattice) β form at 882 °C (1,620 °F). The specific heat of the α form increases dramatically as it is heated to this transition temperature but then falls and remains fairly constant for the β form regardless of temperature.
« Powrót do słownika