We offer sputtering targets with purity reaching up to 99,9999%, diameters ranging from 2.54 to 203.3 mm (0.1 to 8 in). We can provide targets made out of any alloy (NiCr, MoNb, NbZr, TiNb, TiAl, SiAl) or metal (Ti, Cu, Ni, Nb, Ta, W, Mo, CrZr, Hf, Ag, Zn).
A few words about sputtering targets and technology
Vacuum metalization (also known as magnetron sputtering) is a method of thin layer deposition on the surface through erosion of a target material and then transporting and depositing its molecules onto a substrate. A common name for a group of these techniques is called Physical Vapor Deposition.
This technology is used to produce coatings and thin film layers to protect, modify or upgrade the original surface of the material. Variety of purposes, from purely decorative to complicated technical applications, are commonly utilized across different industries: chemical, medical, material engineering and most importantly – electronics (semiconductors, photovoltaic devices, etc).
Key process parameters
ENERGY OF THE BOMBARDING IONS
controlled by the amplification of the electric field, desorption of impurities and increased condensation centers creating surface defects influence the layers deposition and adhesion to the substrate.
ELECTRON BEAM EVAPORATION
Evaporation is induced by a electron gun. This method is used for refractory metals.
IONIZATION LEVEL
PRESSURE
TARGET PLATE TEMPERATURE
Influences density, hence adhesion of the deposited layer;
SPEED OF THE SPUTTERING PROCESS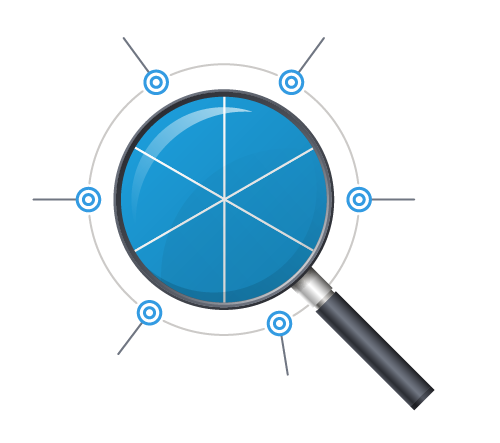 Vacuum sputtering allows a uniform deposition of the coating layer on elements with complicated shapes. This method is the only way in cases where very demanding technical and material-related requirements are imposed, including structure, density and stoichiometry of the layers.
An important aspect of this technology is that it's environmentally friendly as it doesn't dispose any toxic substances. Also, economical aspect of PVD is quite a significant one, as this methodology does not require high energy consumption.
Sputtering process takes place in a vacuum, which may be confusing to a layperson, as 'vacuum' in this case relates to a low pressure environment composing an inert gas (such as argon) in a chamber. Such gas is ionized by a magnetic field and individual ions are then being accelerated to strike a target plate (cathode) with high energy. This causes the expulsion of target molecules, which then can fly freely across the chamber. This process is called sputtering. Eventually, those molecules reach the substrate and condense on its surface, creating a thin layer.
An alternative sputtering method is by pulsed laser deposition (PLD), which deploys a high-power and narrow frequency pulsed laser beam to strike the target plate (one pulse lasts several nanoseconds). This causes ablation of the material, creating plasma cloud, which then condenses on a substrate. To control the thickness of such layers, thousands of such laser pulses are deployed.
PVD layers show specific mechanical properties such as hardness or adhesion, or physical properties including conductivity, friction or corrosion resistance.
Types of vacuum deposition
EVAPORATION
SPUTTERING
DEPOSITING
LASER ABLATION
ELECTRON BEAM VAPOR DEPOSITION

Where is it used?
Metalization is used in scanning electron microscopy, which allows observation of objects smaller than 1 nanometer in size. Non-conductive specimens require sputter coating to assure electrical conductivity at the surface, so that the electron beam can interact with atoms to produce secondary electron emission which is then detected and used to create an image.
To prevent the samples are coated properly, targets need to show a high level of purity.
PVD layering is used in optic systems, microelectronics, bio-medicine and other industrial applications increasing properties of the materials used.
SOLAR PANELS
AUTOMOTIVE AND ARCHITECTURAL GLASS
SEMICONDUCTORS
SCANNING ELECTRON MICROSCOPY
FLAT PANEL DISPLAYS
COMPLICATED DETAILS AND VARIOUS ELEMENTS
MAGNETIC STORAGE DEVICES
FIBER-OPTIC COMMUNICATION
Advantages:
low processing temperature;
layer keeps the chemical composition of the target material;
this method does not influence the chemical conversions, it only changes the state of matter (from solid to vapor and then from vapor to solid);
ease to control the state, microstructure, phase and chemical structure of the material by manipulating the energy of sputtered molecules;
Our offer
We offer sputtering targets with purity reaching up to 99,9999%, diameters ranging from 2.54 to 203.3 mm (0.1 to 8 in). We can provide targets made out of any alloy (NiCr, MoNb, NbZr, TiNb, TiAl, SiAl) or metal (Ti, Cu, Ni, Nb, Ta, W, Mo, CrZr, Hf, Ag, Zn).