We supply bars, wires, plates, sheets, cylinders and flat bars made out of tungsten.
Tungsten products offered by WOLFTEN
Tungsten (also Wolframe) is a group 6 chemical element with the symbol W and atomic number 74. It is a white-silvery, very tough transition metal. It's the second, right after carbon, least fusible chemical element, with melting point at 3 410°C. It could be characterized as having low thermal expansion coefficient, very high strength and electrical resistance in elevated temperatures.
Annual world's production capacity amounts to 70 000 tons and 95% of it is used to manufacture steel and alloys. Due to its wide range of applications, it has become one of the most important technical metals. It is on the list of Critical Raw Materials (CRMs) for the EU, being at high importance to the EU economy and of high risk associated with its supply.
Uses and applications
This chemical element makes a cemented tungsten carbide – a composite material comprised of individual carbide grains imbedded in a ductile metal binder, commonly used for bearings, drills, lathe knives, high speed cutters for machining purposes.
Elements made out of pure tungsten show high strength at high temperatures and immunity to corrosion. Wolfram is applied where high temperatures occur, for example for military purposes or to build components used in nuclear reactors. It's used in the electric, electronic, automotive and aviation industries. It also finds its use in modern biomedical technologies.
In metallurgy, this metal becomes an alloying element, increasing steel's strength, scrub and mechanical resistance.
Also, because it is difficult to machine, its casting is performed in very high temperatures. Welding and riveting is not recommended.
Heavy alloys
They are alloys such as tungsten with nickel, copper, iron and molybdenum which exhibit extreme density and machinability.
We offer products and semi-finished products made out of tungsten heavy alloys, with tungsten content reaching from 90% to 97%. We also supply products made of non-standard tungsten class, such as W90Ni6Cu4, W90Ni7Cu3, W90Ni7Fe3, W92.5Ni5.25Cu2.25.
Use of tungsten heavy alloys
Heavy alloys are primarily used in power generation industry, in electrotechnical applications and aviation business. Bars and rods are used to make turbine elements.
Heavy alloys have other uses serving as balance wheels for clocks, watches or gyroscopes, radiation shields, containers for radioactive materials, shock and vibration absorption elements, electrical contacts exposed to high level of current load, electrodes for electrical discharge machining (EDM) and welding, including metal matrix composites.
LIGHTS AND ELECTRICS
filaments of incandescent lamps, welding electrodes, electrical circuits, connectors
ELECTRONICS
liquid-crystal displays, electronic circuits
AVIATION INDUSTRY
helicopters' rotor blades, rocket engine nozzles, turboshaft engines
GENERAL INDUSTRY
machine tools, heavy equippment
HEALTH AND MEDICAL INDUSTRY
x-ray tube covers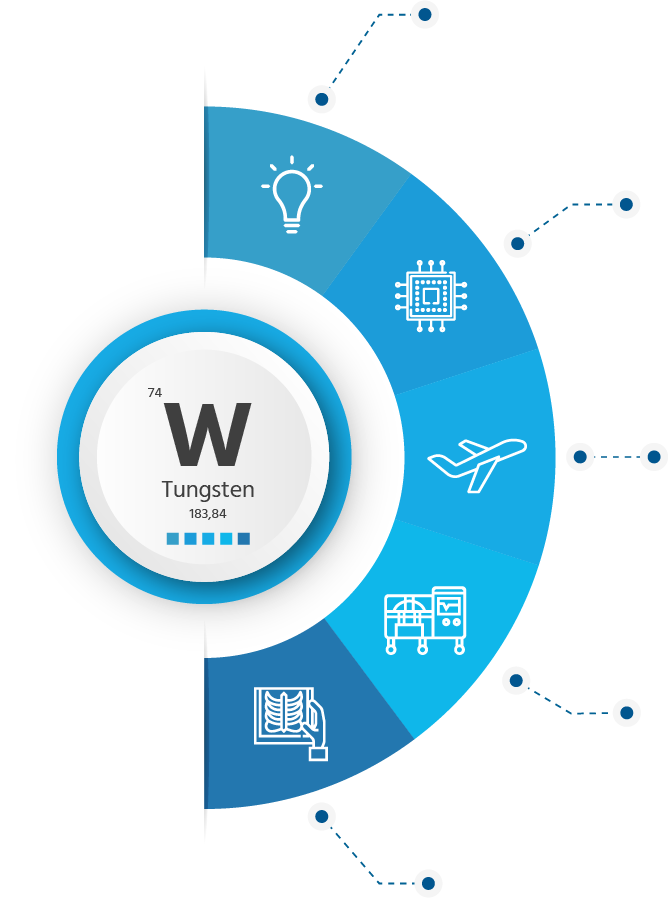 Tungsten copper
WCu is a metal alloy with 70% of tungsten. This alloy combines a high electrical and thermal conductivity of copper and resistance to arc and welding formation. WCu alloy shows substantial scrub erosion resistance, has high Young's modulus value and fine crystalline structure.
We offer WCu products in five classes: W50/Cu50, W60/Cu40, W70/Cu40, W75/Cu25, W80/Cu20. We also supply products of different classes.
Usage of tungsten copper
WCu is used to make components of high temperature kilns and furnaces, heating elements, radiators, EDM electrodes, discharge lamps, electrical contacts, high frequency and high speed tools. It also utilized in medical technologies. Additionally, tungsten copper alloys can be found to produce:
resistance welding electrodes;
EDM electrodes;
circut breakers (air-break or oil-filled);
electric arc tips;
relay changeover contacts;
high current contactors;
relays/switches;
Alloy C-22
Alloy C-22 to stop niklowo-chromowo-molibdenowy, który wykazuje się doskonałą odpornością w środowiskach utleniających. Dzięki zawartości wolframu posiada bardzo wysoką odporność na korozję.
Alloy 200/201
Alloy 200 i Alloy 201 to czysty nikiel techniczny o wysokiej plastyczności, dobrej przewodności cieplnej i wyjątkowej odporności na korozję. Alloy 200 i alloy 201 różnią się zawartością żelaza.
Alloy C-276
Alloy C-276 należy do grupy stopów niklowo-chromowo-molibdenowych z dodatkiem wolframu. Charakteryzuje się wysoką odpornością na korozję szczelinową, wżery i korozję naprężeniową w utleniających i redukujących mediach
Alloy 330
Alloy 330 to stop austenityczny niklowo-żelazowo-chromowy charakteryzujący się wyśmienitą odpornością na nawęglanie oraz utlenianie w wysokich temperaturach.
Alloy 400
Alloy 400 należy do grupy stopów niklowo-miedziowych z wysokimi właściwościami wytrzymałościowymi i dobrą odpornością na korozję chemiczną. Materiał cechuje się dobrą wytrzymałością na rozciąganie i twardością.
Alloy 600
Alloy 600 to nieutwardzalny stop niklu, chromu i żelaza. Jest to materiał o wszechstronnym zastosowaniu – sprawdza się w szerokim zakresie temperatur – od ujemnych po sięgające ok. 1050°C.
Alloy 601
Alloy 601 to stop niklu, chromu i żelaza z dodatkiem aluminium. Materiał ten wykorzystuje się do zastosowań wymagających odporności na działanie wysokich temperatur i gazów w atmosferach utleniających.
Alloy 625
Ze względu na jego wyjątkową wytrzymałość na gorąco i na zużycie w połączeniu z dobrą odpornością na utlenianie i nawęglanie Alloy 625 może być stosowany w temperaturach aż do 1000°C.
Alloy 718
Alloy 718 to utwardzany wydzielinowo stop niklu, zawierający niob i molibden. Charakteryzuje się doskonałymi właściwościami wytrzymałościowymi na rozciąganie i wysokie temperatury.
Alloy 800/800h/800ht
Alloy 800 zo stop niklowo-żelazowo-chromowy. Stop 800h i 800ht są jego odmianami z tym, że różnica polega na innej zawartości węgla oraz obróbce cieplnej.
Why WOLFTEN?
We offer tungsten with 99,95% purity, tungsten heavy alloys and tungsten copper;
We supply bars, wires, plates, sheets, cylinders and flat bars;
We provide tungsten and tungsten alloy products of any sizes and classes, as per your requirements and demands;
We are keen to long-term cooperation – for those ordering regularly, we keep the stock levels for products and elements to be immediately available for specific installations and manufacturing processes;
We guarantee fast and flexible deliveries; we work with just-in-time inventory management strategy;
All our tungsten products are based on ASTM standards. We supply products certified for various applications, including those for aviation (AMS) and military (MIL) industries;