We supply wires, bars, electrodes, cylinders, plates, sheets, flat bars, screws, bolts, washers and welding materials.
Products offered by WOLFTEN
Nickel properties
This metal shows significant chemical activity, has a good thermal and electrical conductivity. It's melting point is at 1452 °C, it has good machinability, exhibits good ductility properties, it can be rolled, welded or cast.
Nickel-plated objects, such as jewelry, zippers, buttons, belt buckles can sometimes provoke allergies causing skin rush. There is an exponential increase in reported allergy cases, more prevalent in women, most probably due to cultural norms related to jewelry and ear piercings.
A few words about history
The name comes from the word Kupfernickel (German for Devils' copper), used by German miners to call a newly-discovered brown-red ore. When they couldn't recover copper from it, they blamed a mischievous nymph called old Nick. Although the use of this metal has been tracked over 3500 BC, it was isolated and classified only in 1751 by Swedish chemist Axel Cronstedt.
With discovery of stainless steel in the early days of 20th century, nickel has stormed to the forefront of alloying elements, increasing steel's resistance to corrosion and immunity to high temperatures. Its first commercial application was at the construction of a racing sailboat Germania (Half Moon) featuring a chrome-nickel steel hull in 1908 by Friedrich Krupp GermaniaWerft in Kiel as a wedding gift to Bertha Krupp. The yacht sank in 1926 near Miami, Florida, but ostensibly not due to its hull's corrosion 🙂
Usage and applications
Nickel is mainly used as alloying element (60% of applications) to make stainless, acid-resistant or heat-resistant steel . This metal has a broad spectrum of applications, including chemical and electrotechnical industries, as heat elements composition and electronics.
Except of many industrial applications, it is used for manufacturing day-to-day products such as door handles, musical instruments or glasses frames, coins or NiCr batteries.
PETROCHEMICAL INDUSTRY
stainless steel production, heating elements, LNG purification plants, drilling equipment
CHEMICAL INDUSTRY
Ni-Cd batteries, pipeline systems, heat exchangers, condensers
COIN MINTING
Cu-Ni alloys
JEWELRY INDUSTRY
glass frames, jewelry
SHIPBUILDING INDUSTRY
yacht and ship hulls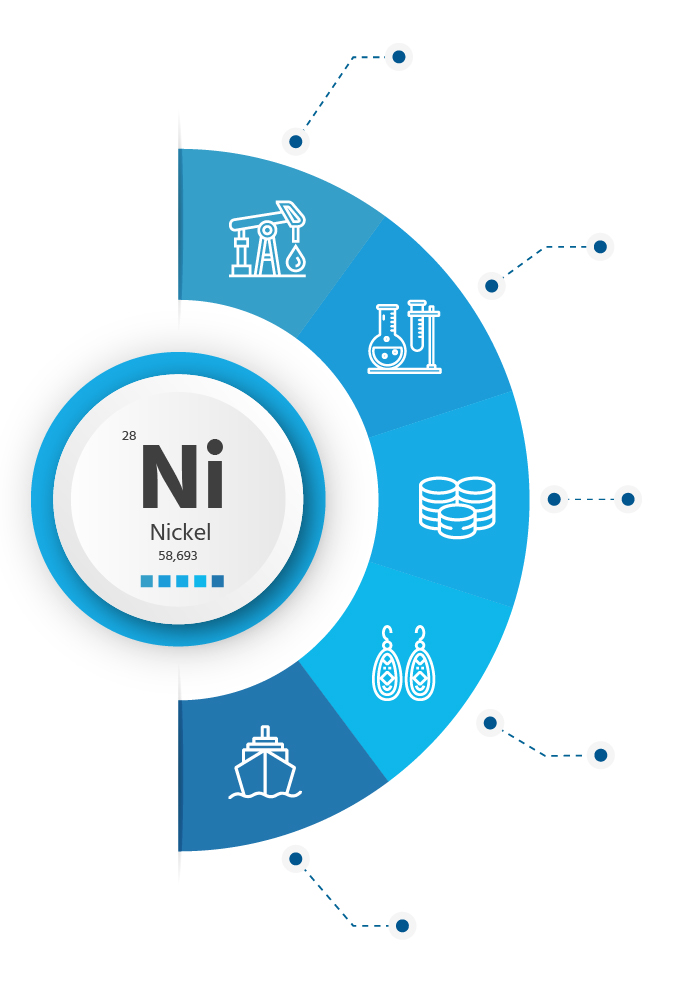 Why WOLFTEN?
We supply wires, bars, electrodes, cylinders, plates, sheets, flat bars, screws, bolts, washers and welding materials;
We deliver any standard products;
We fulfill special and extraordinary orders and requirements;
We are continually restocking our inventory to better help our customers manage their needs.;
Our products are classified by Werkstoff/DIN and UNS. Majority of bars, depending on alloy, conform to United Kingdom BS and AFNOR standards;
Additionally, we stock bars certified for various applications, including those for aviation industry (AMS), high-pressure purposes (ASME) as well as conforming to DIN, SEW, VdTÜV, BS and QQ standards;