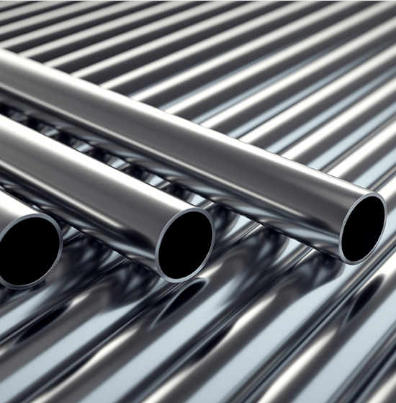 COPPER-NICKEL PIPES
We supply seamless pipes made out of copper-nickel – up to 210 mm in diameter and straight welded ones – up to 1600 mm in diameter and wall thickness up to 12,7 mm.
Products made of 66-30-2-2 Cu-Ni alloy are usually available as seamless pipes. All our products are certified to the applicable ASTM specification.
We adjust our stock levels to efficiently fulfill client's needs and requirements
When ordering regularly, we keep the stock levels for products and elements to be available promptly. We adopt clients' logistics processes, to assure smooth and reliable deliveries. We work with the just-in-time inventory management strategy.
Use of copper-nickel pipes
Cupronickel pipes are used to make condensers in shipbuilding industry, elements of heat exchangers (including sieve bottoms), gas mine systems, industrial air conditioning, desalination plants and chemical industry pipeline systems. Such a broad range of application originates from the fact that these alloys are greatly resistant to corrosion, including that of sea water.
Cupronickel is used in automotive industry, as elements of breaks, suspension and other hydraulic systems. Finned pipes are often used for explosive plating.
We provide product and material consulting. Let us know if you need any help!
Do you have questions? We have the answers!