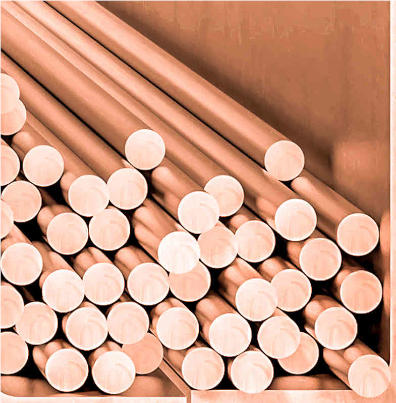 COPPER-TUNGSTEN BARS
Wolften offers bars and rods made out of copper tungsten alloy with the following content of copper: 10%, 15%, 20%, 25%, 30%, 35%, 40% or 50%. We supply bars and rods with the diameter ranging ⌀ 8 – 150 mm and length up to 1000 mm.
We fulfill orders for bars and rods in variety of parameters and dimensions, threaded or bored.
Copper tungsten bars, usage
Copper tungsten rods are ideal for drilling and boring troublesome materials as they have good scrub resistance, good electrical conductivity and low thermal expansion rate. They are used to produce electrical contactors and radiators. As a contact material, copper tungsten alloy shows high resistance to arc and welding formation.
All our bars and rods are certified to the applicable ASTM specifications.
COPPER TUNGSTEN BARS

product
bars and rods
tungsten
W
W 99.95%
[W1]
⌀ 8.0-100 [mm]
L max 2000mm
[spec. GB 4187-84]
We provide product and material consulting. Let us know if you need any help!
Do you have questions? We have the answers!
TUNGSTEN COPPER (WCu)

product
bars and rods
tungsten copper
WCu
W90%Cu10%
⌀ 8.0-150 [mm]
L max 1000 [mm]
[spec. ASTM B702]
W85%Cu15%
W80%Cu20%
W75%Cu25%
W70%Cu30%
W65%Cu35%
W60%Cu40%
W50%Cu50%
TUNGSTEN HEAVY ALLOYS

product
bars and rods
tungsten heavy alloys
W90% Ni6% Cu4%
⌀ 8-200 [mm]
L max 1000 [mm]
[spec. ASTM B777-87 MIL-T-21014
SAE-AMS-T-21014
AMS 7725C]
W90% Ni7% Cu3%
W92.5 Ni5.25% Fe2.25%
W95% Ni3.5% Cu1.5%
W95% Ni3.5% Fe1.5%
W97% Ni2.1% Cu0.9%
W93%-Mo-Ni-Fe