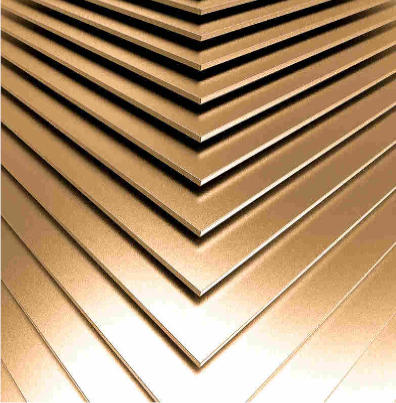 COPPER TUNGSTEN SHEETS
We stock sheets and plates comprising of 10%, 15%, 20%, 25%, 30%, 35%, 40% or 50% of copper, with thickness up to 50 mm, but we can supply tungsten copper sheets in any sizes and dimensions.
We provide cutting services, including boring and threading.
Copper tungsten combines properties of both metals, hence it's resistant to high temperatures, shows high thermal and electrical conductivity and is easy to machine.
Use and applications
The sheets and plates made out of copper tungsten alloy are used in many industries, including aviation and power generation.
Elements of heat exchangers and coolers in electronic devices are made out of this alloy, as well as passive radiators, arched and vacuum contactors in high current devices. We offer flexible deliveries, we keep constant stock levels as we adopt client's logistical requirements and needs. All sheets are certified to the applicable ASTM specification.
COPPER TUNGSTEN SHEETS

products
sheets and plates
tungsten W
W 99.95% [W1]
0.1-40 [mm] max 350 [mm] L max 600 [mm] [spec. ASTM B760]
We provide product and material consulting. Let us know if you need any help!
Do you have questions? We have the answers!
TUNGSTEN COPPER WCu

product
sheets and plates
tungsten copper WCu
W90%Cu10%
0.5-50 [mm] max 250 [mm] L max 500[mm] [spec. ASTM B702]
W85%Cu15%
W80%Cu20%
W75%Cu25%
W70%Cu30%
W65%Cu35%
W60%Cu40%
W50%Cu50%
TUNGSTEN HEAVY ALLOYS

product
sheets and plates
tungsten heavy alloys
W90% Ni6% Cu4%
1-100 [mm] max 350 [mm] L max 700 [mm] [spec. ASTM B777-87 MIL-T-21014 SAE-AMS-T-21014 AMS 7725C]
W90% Ni7% Cu3%
W92.5 Ni5.25% Fe2.25%
W95% Ni3.5% Cu1.5%
W95% Ni3.5% Fe1.5%
W97% Ni2.1% Cu0.9%
W93%-Mo-Ni-Fe