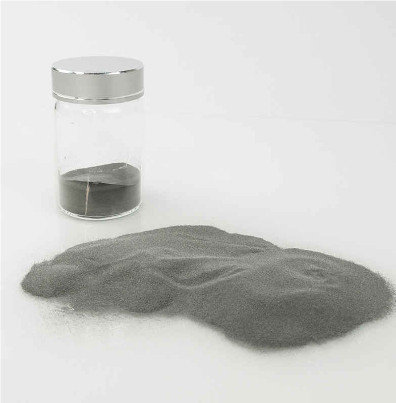 TUNGSTEN POWDERS
Tungsten powders are available in multiple parameters – size, distribution of particle diameters and bulk density. The product is prepared and delivered according to client's technical requirements.
How tungsten powder is made?
Powder metallurgy is made out of three main stages:
production of powders;
cold moulding;
sintering;
Tungsten powders are formed mechanically. That means, the powder is made by
physically breaking and crushing solid material into fine particles, using abrasive materials, milling and grinding. In the next step, the powder is formed and pressed to condense its molecular structure.
Moulded part is then sintered, in other words it is exposed to thermal processing, which changes its physiochemical characteristics, making the particles join together. Final treatment consists of processes such as casting and rolling. This operation closes off the voids in the microstructure, which positively influences tensile strength and corrosion resistance. As a result, we have a uniform and well fused product.
Tungsten powder use
Spherical tungsten powders are popular for 3D printing, but are also used for other techniques – including metal injection molding (MIM). Tungsten powders allow to produce products of complex geometry in one component with very high accuracy and precision.
Due to strength and high temperature resistance, tungsten powders are used in production of tungsten penetrators for APFSDS projectiles.
We provide product and material consulting. Let us know if you need any help!
Do you have questions? We have the answers!
TUNGSTEN POWDERS

product
bars and rods
sheets and plates
wire
tungsten
W
W 99.95%
[W1]
⌀ 8.0-100 [mm]
L max 2000mm
[spec. GB 4187-84]
0.1-40 [mm]
max 350 [mm]
L max 600 [mm] [spec. ASTM B760]
⌀ 0.01-0.8 [mm] [black or purified,
spec. GB 4187-84]
TUNGSTEN COPPER – WCu

product
bars and rods
sheets and plates
tungsten copper
W-Cu
W90%Cu10%
⌀ 8.0-150 [mm]
L max 1000 [mm]
[spec. ASTM B702]
0.5-50 [mm]
max 250 [mm]
L max 500[mm]
[spec. ASTM B702]
W85%Cu15%
W80%Cu20%
W75%Cu25%
W70%Cu30%
W65%Cu35%
W60%Cu40%
W50%Cu50%
TUNGSTEN HEAVY ALLOYS

product
bars and rods
sheets and plates
tungsten heavy alloys
W90% Ni6% Cu4%
⌀ 8-200 [mm]
L max 1000 [mm]
[spec. ASTM B777-87 MIL-T-21014
SAE-AMS-T-21014
AMS 7725C]
1-100 [mm]
max 350 [mm]
L max 700 [mm]
[spec. ASTM B777-87
MIL-T-21014
SAE-AMS-T-21014
AMS 7725C]
W90% Ni7% Cu3%
W92.5 Ni5.25% Fe2.25%
W95% Ni3.5% Cu1.5%
W95% Ni3.5% Fe1.5%
W97% Ni2.1% Cu0.9%
W93%-Mo-Ni-Fe