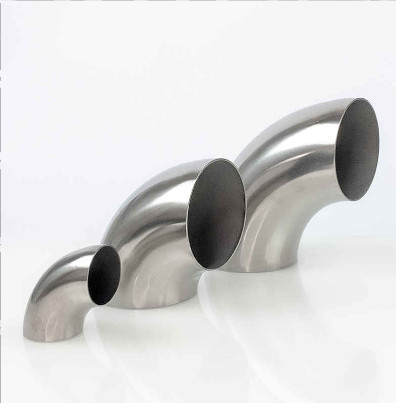 NICKEL BENDS
Nickel bends are bending pipes that are used to change the pipeline direction. Bends and elbows are essentially the same thing, except that elbows are shorter comparing with bends. They are popular in a quite the number of applications including food industry, automotive industry, chemical and biotechnological purposes. In short, they are used where the well-developed pipeline systems are.
We supply nickel bends and elbows bent at 45° or 90°, seamless or welded, with high diversification of sizes, desired external diameters and wall thickness.
All nickel bends and nickel elbows we offer are made in accordance with ASTM standards and conform to Pressure Equipment Directive – ASME and MSS SP-43.
We guarantee short delivery times for replacement and wear items, including single item orders.
NICKEL BENDS AND ELBOWS

types
90° & 45°
seamless or welded
standards
ASTM B366 – ASME SB366
ASME B16.25
ASME B16.28
MSS SP-43
dimensions
external diameter: 1/2" – 24″ (21.34-609.5mm)
wall thickness: sch 5S, 10S, 40S (STD), 80S (XS), 160S (XXS)
(1.65-59.51mm)
We provide product and material consulting. Let us know if you need any help!
Do you have questions? We have the answers!
| | | | |
| --- | --- | --- | --- |
| NPS | External diameter | 90° LR (A) | 45° LR (B) |
| 1/2″ | 21.3 | 38 | 16 |
| 3/4″ | 26.7 | 38 | 19 |
| 1″ | 33.4 | 38 | 22 |
| 1 1/4″ | 42.2 | 48 | 25 |
| 1 1/2″ | 48.3 | 57 | 29 |
| 2″ | 60.3 | 76 | 35 |
| 2 1/2″ | 73.0 | 95 | 44 |
| 3″ | 88.9 | 114 | 51 |
| 3 1/2″ | 101.6 | 133 | 57 |
| 4″ | 114.3 | 152 | 64 |
| 5″ | 141.3 | 190 | 79 |
| 6″ | 168.0 | 229 | 95 |
| 8″ | 219.1 | 305 | 127 |
| 10″ | 273.0 | 381 | 159 |
| 12″ | 323.8 | 457 | 190 |
| 14″ | 355.6 | 533 | 222 |
| 16″ | 406.40 | 610 | 254 |
| 18″ | 457 | 686 | 286 |
| 20″ | 508 | 762 | 318 |
| 22″ | 559 | 838 | 343 |
| 24″ | 610 | 914 | 381 |