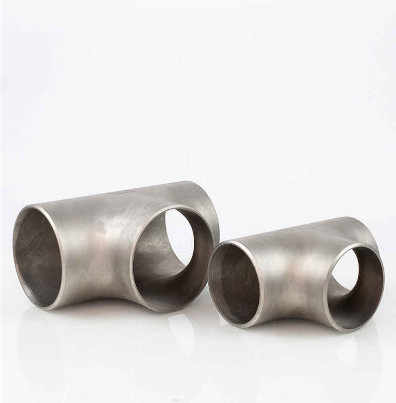 NICKEL TEES
Pipe tee is a pipe fitting, usually T-shaped, used as adapter to connect pipelines with a lateral pipe at a right angle with the line. They are basic pipeline system elements, used in water and sewage infrastructures. Pipe tees have three inlets, which are used as lateral splitters to modify and expand the line by manipulating the conveyance within the system .
Nickel tees may be used for the purpose of transferring the pressurized air, water or any other liquid or gaseous media across the system. Nickel tees can be found in pharmaceutical and chemical applications, in heat exhangers, condensers or in other industrial functions.
We supply equal nickel tees, seamless nickel tees and welded nickel tees in desired dimensions and sizes.
All our nickel tees are made in accordance with ASTM standards and conform to Pressure Equipment Directive – ASME and MSS SP-43.
For our regular customers we focus on keeping our stock levels at a level to sufficiently provide fast delivery of replacement and wear items.
EQUAL NICKEL TEES

types
seamless or welded
standards
ASTM B366 – ASME SB366
ASME B16.9
ASME B16.25
MSS SP-43
dimensions
external diameter: 1/2" – 24″ (21.34-609.5mm)
wall thickness: sch 5S, 10S, 40S (STD), 80S (XS), 160S (XXS) (1.65-59.51mm)
We provide product and material consulting. Let us know if you need any help!
Do you have questions? We have the answers!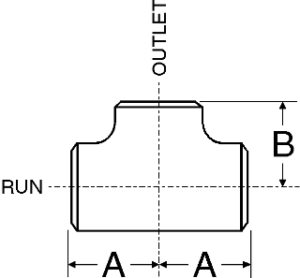 NPS
External diameter
Center-to-End
Inlet (A)
Outlet (B)
1/2″
21.3
25
25
3/4″
26.7
29
29
1″
33.4
38
38
1 1/4″
42.2
48
48
1 1/2″
48.3
57
57
2″
60.3
64
64
2 1/2″
73.0
76
76
3″
88.9
86
86
3 1/2″
101.6
95
95
4″
114.3
105
105
5″
141.3
124
124
6″
168.0
143
143
8″
219.1
178
178
10″
273.0
216
216
12″
323.8
254
254
14″
355.6
279
279
16″
406.40
305
305
18″
457
343
343
20″
508
381
381
22″
559
419
419
24″
610
432
432
REDUCING TITANIUM TEES

types
seamless or welded
standards
ASTM B366 – ASME SB366
ASME B16.9
ASME B16.25
MSS SP-43
dimensions
external diameter: 1/2" – 24″ (21.34-609.5mm)
wall thickness: sch 5S, 10S, 40S (STD), 80S (XS), 160S (XXS)
(1.65-59.51mm)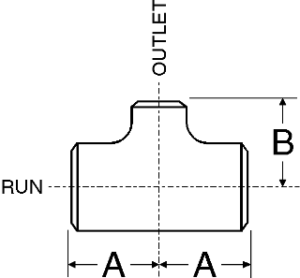 Pipe dimensions
External diameter
Center-to-End
large end
small end
large end
small end
Run (C)
Outlet (M)
1/2″
1/4″
3/8″
21.3
13.7
17.3
25
25
3/4″
3/8″
1/2″
26.7
17.3
21.3
29
29
1″
1/2″
3/4″
33.4
21.3
26.7
38
38
1 1/4″

1/2″

3/4″

1″

42.2
21.3
26.7
33.4
48
48
1 1/2″
1/2″
3/4″
1″
1 1/4″
48.3
21.3
26.7
33.4
42.2
57
57
2″
3/4″
1″
1 1/4″
1 1/2″
60.3
26.7
33.4
42.2
48.3
64

44

51

57

60

2 1/2″

1″

1 1/4″

1 1/2″

2″

73.0
33.4
42.2
48.3
60.3
76

57

64

67

70

3″
1 1/4″
1 1/2″
2″
2 1/2″
88.9
42.2
48.3
60.3
73.0
86

70

73

76

83

3 1/2″
1 1/2″
2″
2 1/2″
3″
101.6
48.3
60.3
73.0
88.9
95
79
83
89
92
4″

1 1/2″
2″
2 1/2″
3″

3 1/2″

114.3
48.3
60.3
73.0
88.9
101.6
105
86
89
95
98
102
5″
2″
2 1/2″
3″
3 1/2″
4″
141.3
60.3
73.0
88.9
101.6
114.3
124
105
108
111
114
117
6″
2 1/2″
3″
3 1/2″
4″
5″
168.0
73.0
88.9
101.6
114.3
141.3
143
121
124
127
130
137
8″
3 1/2″
4″
5″
6″
219.1
101.6
114.3
141.3
168.3
178
152
156
162
168
10″
4″
5″
6″
8″
273.0
114.3
141.3
168.3
219.1
216
184
191
194
203
12″
5″
6″
8″
10″
323.8
141.3
168.3
219.1
273.0
254
216
219
229
241
14″
6″
8″
10″
12″
355.6
168.3
219.1
273.0
323.8
279
238
248
257
270
16″
6″
8″
10″
12″
14″
406.4
168.3
219.1
273.0
323.8
355.6
305
264
273
283
295
305
18″
8″
10″
12″
14″
16″
457.0
219.1
273.0
323.8
355.6
406.4
343
298
308
321
330
330
20″
8″
10″
12″
16″
14″
18″
508.0
219.1
273.0
323.8
355.6
406.4
457.0
381
324
333
346
356
356
368
22″
10″
12″
16″
14″
18″
20″
559.0
273.0
323.8
355.6
406.4
457.0
508.0
419
359
371
381
381
394
406
24″
10″
12″
16″
14″
18″
20″
22″
610.0
273.0
323.8
355.6
406.4
457.0
508.0
559.0
432
384
397
406
406
419
432
432