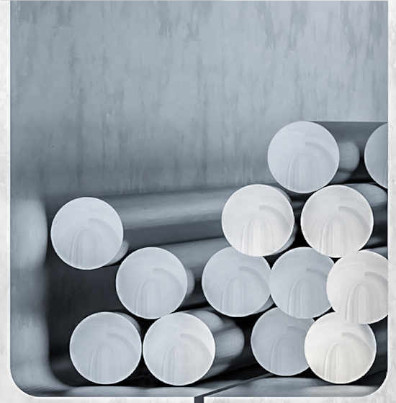 NICKEL BARS
We offer nickel bars with diameters ranging ⌀ 4 – ⌀ 350 mm and length up to 6000 mm in any out of 11 types of nickel alloys. We sell heat-resistant nickel bars (Inconel™, Incoloy™) and corrosion-resistant nickel bars (Hastelloy™).
We are regularly restocking our inventory to better help our customers manage their needs for nickel bars.
Upon regular orders, we focus on keeping our stock levels sufficient to provide swift delivery of replacement and wear items for specific installations. Orders for nickel bars are fulfilled with the just-in-time inventory management strategy.
Standards for nickel bars
nickel bars we offer are manufactured with nickel alloys classified by Werkstoff/DIN and UNS;
majority of nickel bars, depending on alloy, conform to United Kingdom BS and AFNOR standards;
we stock bars certified for various applications, including those for aviation industry (AMS), high-pressure purposes (ASME) as well as conforming to DIN, SEW, VdTÜV, BS and QQ standards;
Usage of nickel bars
Nickel bars are used to manufacture furnace elements including nozzles, clamps and similar items. There are plenty of other applications, which may be found in chemical, petrochemical or automotive industries.
NICKEL BARS ALLOY 200/201

types / signs
specification / standards
dimensions
Werkstoff / DIN
2.4066 / Ni 99.22.4068 / LC-Ni99
DIN 17752 / VdTuV 345
⌀ 4-350[mm]
L max 6000[mm]
UNS
N02200 / N02201
ASTM B160 / ASME SB160
ISO
Ni 99.00 / LC-Ni 99.0
United Kingdom BS
NA 11/ NA 12
BS 3076
We provide product and material consulting. Let us know if you need any help!
Do you have questions? We have the answers!
NICKEL BARS ALLOY 330

types / signs
specification / standards
dimensions
Werkstoff / DIN
1.4864 / X12NiCrSi36-16 1.4862 / X8NiCrSi38-18
SEW 310/470
⌀ 4-350[mm]
L max 6000[mm]
UNS
N08330
United Kingdom BS
NA 17
BS 3076
AFNOR
Z12NCS35.16 Z12NCS37.18
ALLOY 400

types / signs
specification / standards
dimensions
Werkstoff / DIN
2.4360 / NiCu30Fe
DIN 17752 / VdTuV 263
⌀ 4-350[mm]
L max 6000[mm]
UNS
N04400
ASTM B160 / ASME SB160
ISO
NiCu30
9723
United Kingdom BS
NA 12
BS 3076
AFNOR
NU 30
ALLOY 600

types / signs
specification / standards
dimensions
Werkstoff / DIN
2.4816 / NiCr15Fe
DIN EN 17752 / DIN 17752 / VdTuV 305
⌀ 4-350[mm]
L max 6000[mm]
UNS
N06600
ASTM B166 / ASME SB166 / AMS 5665
ISO
NiCr15Fe8
United Kingdom BS
NA 14
BS 3076
AFNOR
NC15Fe
ALLOY 601

types / signs
specification / standards
dimensions
Werkstoff / DIN
2.4856 / NiCr23Fe
DIN EN 10095 / DIN 17752
⌀ 4-350[mm]
L max 6000[mm]
UNS
N06601
ASTM B166 / ASME SB166 / ASME Code Case 1500 / AMS 5715
ISO
NiCr23Fe15Al
9723
United Kingdom BS
C23FeA
ALLOY 625

types / signs
specification / standards
dimensions
Werkstoff / DIN
2.4856 / NiCr22Mo9Nb
DIN EN 10095 / DIN 17752 / VdTuV 499
⌀ 4-350[mm]
L max 6000[mm]
UNS
N06625, Grade 1
ASTM B446 / ASME SB446 / ASME Code Case 1935 / AMS 5666
ISO
NiCr22Mo9Nb
United Kingdom BS
NA 14
BS 3076
AFNOR
NC 22 DNb
ALLOY 718

types / signs
specification / standards
dimensions
Werkstoff / DIN
2.4668 / NiCr19Fe19Nb5Mo3
DIN 17752
⌀ 4-350[mm]
L max 6000[mm]
UNS
N07718
ASTM B637 / SM 637 / ASME 1993 / ASME Code Case 2206 / SAE AMS 5662 5663 5664
ISO
NiCr19Nb5Mo3
United Kingdom BS
NA 51
BS 3076
AFNOR
NC19FeNb
ALLOY 800 H/HT

types / signs
specification / standards
dimensions
Werkstoff / DIN
1.4959 / X 8 NiCrAlTi 32-21
DIN EN 10302 / DIN 17460
⌀ 4-350[mm]
L max 6000[mm]
UNS
N08811
ASTM B408 / ASME SB408
ALLOY 825

types / signs
specification / standards
dimensions
Werkstoff / DIN
2.4658 / NiCr21Mo
DIN 17752 / VdTuV 432/3
⌀ 4-350[mm]
L max 6000[mm]
UNS
N08825
ASTM B425 / ASME SB425
ISO
NiFe30Cr21Mo3
United Kingdom BS
NA 16
BS 3076
AFNOR
NC21FeDU
ALLOY C-22

types / signs
specification / standards
dimensions
Werkstoff / DIN
2.4602 / NiCr21Mo14W
DIN 17752 / VdTuV 479
⌀ 4-350[mm]
L max 6000[mm]
UNS
N06022
ASTM B574 / ASME SB574 / ASME Code Case 2226, N-621
ISO
NiCr21Mo14W3
ALLOY C-276

types / signs
specification / standards
dimensions
Werkstoff / DIN
2.4819 / NiMo16Cr15W
DIN 17752 / VdTuV 400
⌀ 4-350[mm]
L max 6000[mm]
UNS
N10276
ASTM B574 / ASME SB574 / ASME Code Case 1924
ISO
NiMo16Cr15Fe6W4

9723

AFNOR
NC17D