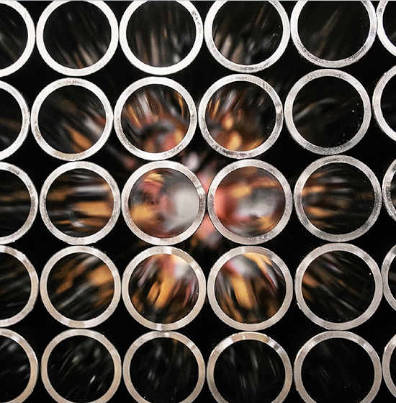 NICKEL PIPES
As a leading distribution center, our company offers nickel pipes of any dimension and wall thickness, made of selected nickel alloys in accordance with your technical specifications. In our offer there are heat-resistant nickel pipes (Inconel™, Incoloy™) and corrosion-resistant nickel pipes (Hastelloy™).
We offer nickel sheet pipes of any dimension, both – rolled or welded. We can provide you with radiographic examination of welds' leak tightness. We maintain our stock levels to efficiently provide our clients with products they need and require. We adopt your manufacturing processes and internal logistics to assure smooth and reliable deliveries. We work with the just-in-time inventory management strategy.
Nickel pipes standards
pipes' dimensions are provided as specified in ANSI B 36.19M-2004 standard;
we stock nickel pipes certified for various applications, including those for high-pressure purposes (ASME) as well as conforming to DIN, VdTÜV and BS standards;
Nickel pipes usage
Nickel pipes are used in applications requiring high corrosion resistance or such with elevated temperature and high pressure environments:
heat exchangers, fittings, mixers, cased piping for dry and wet environments, centrifuges for raw salt processing, crystallisers in

sewage processing plants;

chemical and petrochemical engineering

: heating pipes, steamers and pipelines in sodium hydroxide plants;

power generation industry

utilizes nickel pipes for pipelines, water heating, coolers, steam production elements in nuclear power plants;

petroleum and natural gas production

– pumps working in sour gas environment, suction pumps, fittings, hydrogen sulfide exposed pipeline systems;
We provide product and material consulting. Let us know if you need any help!
Do you have questions? We have the answers!
NICKEL PIPES, SPECIFICATION AND STANDARDS

types / signs
specification / standards
200/201, 330, 400, 600, 601, 625, 718, 800, 825, C-22, C-276
ASTM B161 / ASME SB161, B163 / SB163, B725 / SB725, B730 / SB730, B751 / SB751, B775 / SB775, B829 / SB829, DIN 17751, ISO 6207, BS 3074 (NA12), VdTÜV 345
PIPES DIMENSION ACCORDING TO ANSI B 36.19M-2004

DN
NPS
external dimension (O/D) [mm]
wall thickness 5S [mm]
wall thickness 10S [mm]
wall thickness 40S [mm]
wall thickness 80S [mm]
6
1/8
10.3
–
1.24
1.73
2.41
8
1/4
13.7
–
1.65
2.24
3.02
10
3/8
17.1
–
1.65
2.31
3.20
15
1/2
21.3
1.65
2.11
2.77
3.73
20
3/4
26.7
1.65
2.11
2.87
3.91
25
1
33.4
1.65
2.77
3.38
4.55
32
1 1/4
42.2
1.65
2.77
3.56
4.85
40
1 1/2
48.3
1.65
2.77
3.68
5.08
50
2
60.3
1.65
2.77
3.91
5.54
65
2 1/2
73.0
2.11
3.05
5.16
7.01
80
3
88.9
2.11
3.05
5.49
7.62
90
3 1/2
101.6
2.11
3.05
5.74
8.08
100
4
114.3
2.11
3.05
6.02
8.56
125
5
141.3
2.77
3.40
6.55
9.53
150
6
168.3
2.77
3.40
7.11
10.97
200
8
219.1
2.77
3.76
8.18
12.70
250
10
273.1
3.40
4.19
9.27
12.70
300
12
323.9
3.96
4.57
9.53
12.70
350
14
355.6
3.96
4.57
9.53
12.70
400
16
406.4
4.19
4.78
9.53
12.70
450
18
457.0
4.19
4.78
9.53
12.70
500
20
508.0
4.78
5.54
9.53
12.70
550
22
559.0
4.78
5.54
–
–
600
24
610.0
5.54
6.35
9.53
12.70
750
30
762.0
6.35
7.92
–
–