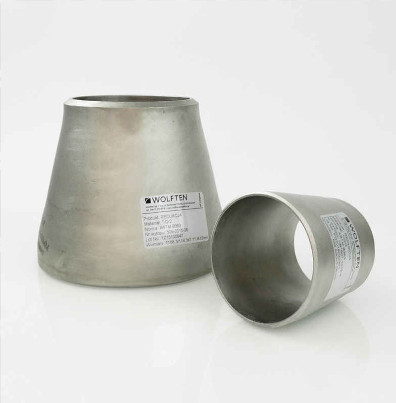 NICKEL REDUCERS
A reducer is a pipeline fitting element used to reduce the pipe size, to meet hydraulic (or gas/vapor) flow requirements of the system. With them, one can create a leakage-free connection and ensure the continuity of your installations.
Nickel reducers are utilized in chemical industry, mining, bioindustry, food and feed manufacturing and processing or automotive related businesses.
We offer symmetric and asymmetric, seamless and welded nickel reducers in any dimensions and sizes.
All nickel reducers we offer are made in accordance with ASTM standards and conform to Pressure Equipment Directive – ASME and MSS SP-43.
We guarantee swift and convenient delivery times as we keep the stock levels for products and elements to be available continuously.
NICKEL REDUCERS

types
symmetric and asymmetric
seamless and welded
standards
ASTM B366 – ASME SB366
ASME B16.9
ASME B16.25
MSS SP-43
dimensions
external diameter: 1/2" – 24″ (21.34-609.5mm)
wall thickness: sch 5S, 10S, 40S (STD), 80S (XS), 160S (XXS)
(1.65-59.51mm)
We provide product and material consulting. Let us know if you need any help!
Do you have questions? We have the answers!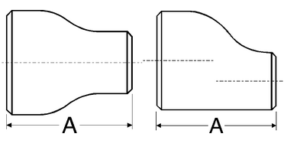 Pipe dimensions
External diameter
Center-to-End
large end
small end
large end
small end
3/4″
3/8″
1/2″
26.7
17.3
21.3
38
1″
1/2″
3/4″
33.4
21.3
26.7
51
1 1/4″

1/2″

3/4″

1″

42.2
21.3
26.7
33.4
51
1 1/2″
1/2″
3/4″
1″
1 1/4″
48.3
21.3
26.7
33.4
42.2
64
2″
3/4″
1″
1 1/4″
1 1/2″
60.3
26.7
33.4
42.2
48.3
76
2 1/2″

1″

1 1/4″

1 1/2″

2″

73.0
33.4
42.2
48.3
60.3
89
3″

1 1/4″

1 1/2″

2″

2 1/2″

88.9
42.2
48.3
60.3
73.0
89
3 1/2″

1 1/2″
2″

2 1/2″

3″

101.6
48.3
60.3
73.0
88.9
102
4″
1 1/2″
2″
2 1/2″
3″
3 1/2″
114.3

48.3

60.3

73.0

88.9

101.6

102
5″
2″
2 1/2″
3″
3 1/2″
4″
141.3

60.3

73.0

88.9

101.6

114.30

127
6″
2 1/2″
3″
3 1/2″
4″
5″
168.0
73.0
88.9
101.6
114.3
141.3
140
8″
3 1/2″
4″
5″
6″
219.1
88.9
101.6
114.3
141.3
168.3
152
10″
4″
5″
6″
8″
273
101.6
114.3
141.3
168.3
219.1
178
12″
5″
6″
8″
10″
323.8
114.3
141.3
168.3
219.1
273.0
203
14″
6″
8″
10″
12″
355.6
141.3
168.3
219.1
273.0
323.8
330
16″
8″
10″
12″
14″
406.4
168.3
219.1
273.0
323.8
355.6
356
18″

8″

10″

12″

14″

16″

457

219.1
273.0
323.8

355.6

406.4

381
20″
8″
10″
12″
14″
16″
18″
508.0
219.1
273.0
323.8
355.6
406.4
457.0
508
22″
10″
12″
14″
16″
18″
20″
559.0

273.0

323.8

355.6

406.4

457.0

508.0

508
24″
10″
12″
14″
16″
18″
20″
22″
610.0

273.0

323.8

355.6

406.4

457.0

508.0

559.0

508