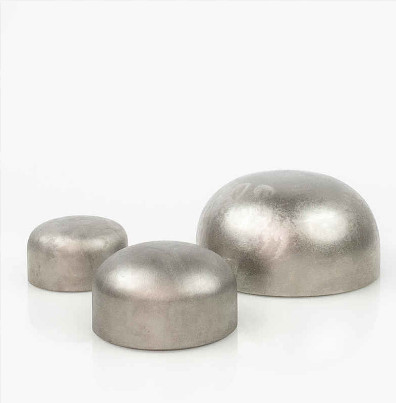 NICKEL END CAPS
Nickel end caps are used to close the ends of pipes or tubes. They are usually installed on the bottom of vessels and containers or at the end of a pipeline systems with high internal pressure. Their shape is crucial, as the dome of the cap allows proper distribution of stresses caused by internal pressure cummulating at the end of the pipeline.
Nickel end caps are available in multitude of shapes: flat, cone, ellipsoidal or disc-shape, diffusion end caps, not to mention butt-welded ones and with various dome shapes.
Use of nickel end caps and their shapes:
flat end caps

are needed to close up the connection of the pipeline with a neutral pressure in the system;
conical end caps

are used in low pressure or unpressurized reservoirs;

ellipsoidal end caps

are applicable in high pressure containers, as they show good mechanical properties and stiffness;
We offer nickel end caps in any size, wall thickness and external diameter. All products we offer are certified to the applicable ASTM and MSS SP-43 specifications.
For our regular customers we keep stock levels to provide fast delivery of replacement and wear items.
NICKEL END CAPS

standards
ASTM B366 – ASME SB366
ASME B16.25
ASME B16.28
MSS SP-43
dimensions
external dimension: 1/2" – 24″ (21.34-609.5mm)
wall thickness: sch 5S, 10S, 40S (STD), 80S (XS), 160S (XXS)
(1.65-59.51mm)
We provide product and material consulting. Let us know if you need any help!
Do you have questions? We have the answers!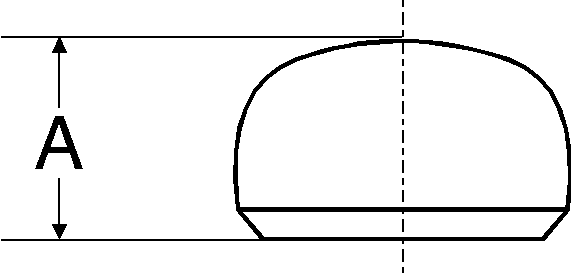 | | | |
| --- | --- | --- |
| NPS | External diameter | A (mm) |
| 1/2″ | 21.3 | 25 |
| 3/4″ | 26.7 | 25 |
| 1″ | 33.4 | 38 |
| 1 1/4″ | 42.2 | 38 |
| 1 1/2″ | 48.3 | 38 |
| 2″ | 60.3 | 38 |
| 2 1/2″ | 73.0 | 38 |
| 3″ | 88.9 | 51 |
| 3 1/2″ | 101.6 | 64 |
| 4″ | 114.3 | 64 |
| 5″ | 141.3 | 76 |
| 6″ | 168.0 | 89 |
| 8″ | 219.1 | 102 |
| 10″ | 273.0 | 127 |
| 12″ | 323.8 | 152 |
| 14″ | 355.6 | 165 |
| 16″ | 406.40 | 178 |
| 18″ | 457 | 203 |
| 20″ | 508 | 229 |
| 22″ | 559 | 254 |
| 24″ | 610 | 267 |