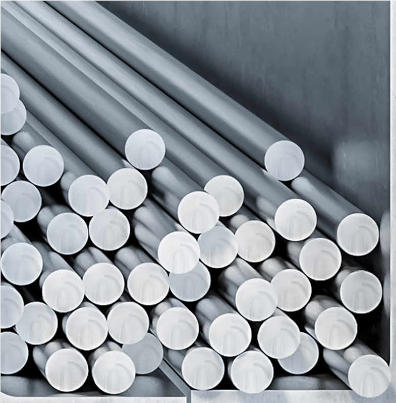 TITANIUM BARS AND RODS
We offer titanium bars and rods of all grades with standard commercial lengths. We facilitate rolling, boring, grinding and threading and we also provide in-house cutting services (water jet) and CNC machining.
Titanium bars usage
Titanium bars are usually machined – rolled, milled or threaded, so that they can be used for creating elements of any shape and form. Their range of applications is very wide; from elements of fuel systems to jewelry.
Standards for titanium bars and rods
All our bars and rods are made in accordance with ASTM standards.
We could also provide products certified for the following standards:
aviation (AMS);
medical;
military industry (MIL);
pressure vessel standards (ASME);
All products and materials are TYPE 3.1 conforming to the EN10204 standard.
We provide product and material consulting. Let us know if you need any help!
Do you have questions? We have the answers!
TITANIUM BARS GRADE 1

grades / specification
dimensions
standards
buy online
ASTM
Grade 1
⌀ 4-350[mm]
L max 6000[mm]
ASTM B348
ASTM F67
MIL-T-9046-CP-4
ISO 5832-2
See the offer
DIN
17850 3.7025
UNS
R50250
Alloy
CP – Commercial Pure
TITANIUM GRADE 2

grades / specification
dimensions
standards
Buy online
ASTM
Grade 2
⌀ 4-350[mm]
L max 6000[mm]
ASTM B348 | ASTM F67
MIL-T-9046-CP-3
ISO 5832-2
See the offer
DIN
17850 3.7035
UNS
R50400
Alloy
CP – Commercial Pure
TITANIUM GRADE 3

grades / specification
dimensions
standards
Buy online
ASTM
Grade 3
⌀ 4-350[mm]
L max 6000[mm]
ASTM B348 | ASTM F67
AMS 4951
ISO 5832-2
See the offer
DIN
17850 3.7055
UNS
R50550
Alloy
CP – Commercial Pure
GRADE 4

grades / specification
dimensions
standards
Buy online
ASTM
Grade 4
⌀ 4-350[mm]
L max 6000[mm]
ASTM B348 | ASTM F67
MIL-T-9046-CP-3
AMS 4921 ISO 5832-2
See the offer
DIN
17850 3.7065
UNS
R50700
Alloy
CP – Commercial Pure
TITANIUM GRADE 5 / 5 ELI

grades / specification
dimensions
standards
Buy online
ASTM
Grade 5 / 5 ELI
⌀ 4-350[mm]
L max 6000[mm]
ASTM B348 | ASTM F136
ASTM F-1472 MIL-T-9047
AMS 4928, 4965, 4967
See the offer
DIN
17851 3.7164/65
UNS
R56400
Alloy
Ti-6Al-4V