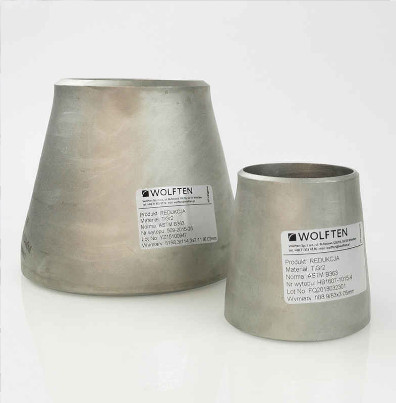 TITANIUM REDUCERS
A reducer is a pipe fitting element used to change (reduce) the pipe size, to meet hydraulic (or gas/vapor) flow requirements of the system.
They are used in district heating installations for gas or liquid applications. They can be found in chemical factories, power plants, mining industry applications, construction and automotive businesses as well as feed and food processing plants.
We offer both types of titanium reducers: concentric (symmetric) and eccentric (asymmetric), seamless or welded, in all grades, dimensions and configurations you may require. We fulfill customized orders for reducers, based and in accordance with your technical specifications.
All our titanium reducers are made in accordance with ASTM standards and conform to Pressure Equipment Directive – ASME and MSS SP-43.
TITANIUM REDUCERS

types
concentric and eccentric
seamless and welded
standards
ASTM B363 – ASME SB363
ASME B16.9
ASME B16.25
MSS SP-43
dimensions
external diameter: 1/2" – 24″ (21.34-609.5mm)
wall thickness: sch 5S, 10S, 40S (STD), 80S (XS), 160S (XXS)
(1.65-59.51mm)
We provide product and material consulting. Let us know if you need any help!
Do you have questions? We have the answers!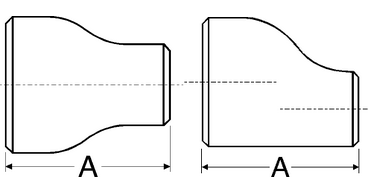 Pipe dimensions
External diameter
Center-to-End
large outlet
small outlet
large outles
small outlet
3/4″
3/8″
1/2″
26.7
17.3
21.3
38
1″
1/2″
3/4″
33.4
21.3
26.7
51
1 1/4″
1/2″

3/4″

1″

42.2
21.3
26.7
33.4
51
1 1/2″
1/2″
3/4″
1″
1 1/4″
48.3
21.3
26.7
33.4
42.2
64
2″
3/4″
1″
1 1/4″
1 1/2″
60.3
26.7
33.4
42.2
48.3
76
2 1/2″
1″

1 1/4″

1 1/2″

2″

73.0
33.4
42.2
48.3
60.3
89
3″
1 1/4″

1 1/2″

2″

2 1/2″

88.9
42.2
48.3
60.3
73.0
89
3 1/2″
1 1/2″
2″

2 1/2″

3″

101.6
48.3
60.3
73.0
88.9
102
4″
1 1/2″
2″
2 1/2″
3″
3 1/2″
114.3
48.3

60.3

73.0

88.9

101.6

102
5″
2″
2 1/2″
3″
3 1/2″
4″
141.3
60.3

73.0

88.9

101.6

114.30

127
6″
2 1/2″
3″
3 1/2″
4″
5″
168.0
73.0
88.9
101.6
114.3
141.3
140
8″
3 1/2″
4″
5″
6″
219.1
88.9
101.6
114.3
141.3
168.3
152
10″
4″
5″
6″
8″
273
101.6
114.3
141.3
168.3
219.1
178
12″
5″
6″
8″
10″
323.8
114.3
141.3
168.3
219.1
273.0
203
14″
6″
8″
10″
12″
355.6
141.3
168.3
219.1
273.0
323.8
330
16″
8″
10″
12″
14″
406.4
168.3
219.1
273.0
323.8
355.6
356
18″
8″

10″

12″

14″

16″

457
219.1
273.0
323.8

355.6

406.4

381
20″
8″
10″
12″
14″
16″
18″
508.0
219.1
273.0
323.8
355.6
406.4
457.0
508
22″
10″
12″
14″
16″
18″
20″
559.0
273.0

323.8

355.6

406.4

457.0

508.0

508
24″
10″
12″
14″
16″
18″
20″
22″
610.0
273.0

323.8

355.6

406.4

457.0

508.0

559.0

508