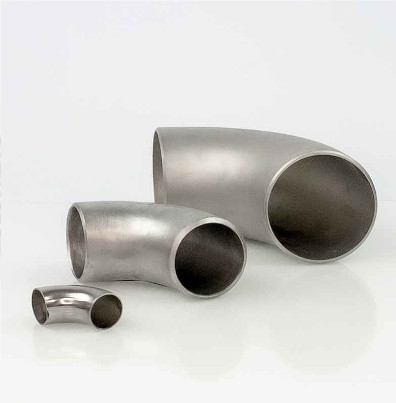 TITANIUM BENDS
Bends and elbows are common and popular elements of the pipeline, changing its direction and orientation.
We offer titanium bends with 45° and 90° angle, seamless or welded. All our products are made in accordance with ASTM/ASME standards, ANSI B16.9 norms and conform to Pressure Equipment Directive – ASME and MSS SP-43.
TITANIUM BENDS AND ELBOWS

type
90° & 45°
seamless and welded
standards
ASTM B363 – ASME SB363
ASME B16.25 ASME B16.28
MSS SP-43
dimensions
internal diameter: 1/2" – 24″ (21.34-609.5mm)
wall thickness: sch 5S, 10S, 40S (STD), 80S (XS), 160S (XXS)
(1.65-59.51mm)
We provide product and material consulting. Let us know if you need any help!
Do you have questions? We have the answers!
| | | | |
| --- | --- | --- | --- |
| NPS | External diameter | 90° LR (A) | 45° LR (B) |
| 1/2″ | 21.3 | 38 | 16 |
| 3/4″ | 26.7 | 38 | 19 |
| 1″ | 33.4 | 38 | 22 |
| 1 1/4″ | 42.2 | 48 | 25 |
| 1 1/2″ | 48.3 | 57 | 29 |
| 2″ | 60.3 | 76 | 35 |
| 2 1/2″ | 73.0 | 95 | 44 |
| 3″ | 88.9 | 114 | 51 |
| 3 1/2″ | 101.6 | 133 | 57 |
| 4″ | 114.3 | 152 | 64 |
| 5″ | 141.3 | 190 | 79 |
| 6″ | 168.0 | 229 | 95 |
| 8″ | 219.1 | 305 | 127 |
| 10″ | 273.0 | 381 | 159 |
| 12″ | 323.8 | 457 | 190 |
| 14″ | 355.6 | 533 | 222 |
| 16″ | 406.40 | 610 | 254 |
| 18″ | 457 | 686 | 286 |
| 20″ | 508 | 762 | 318 |
| 22″ | 559 | 838 | 343 |
| 24″ | 610 | 914 | 381 |