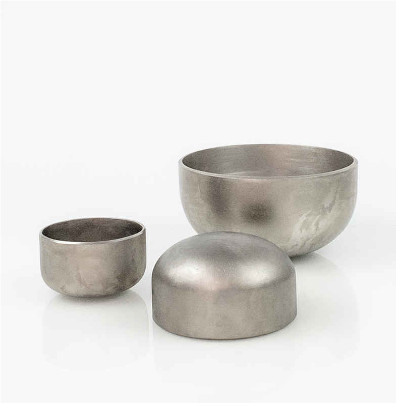 TITANIUM END CAPS
Pipe end caps act as a fitting to close the ends of hydraulic or pneumatic pipes or tubes or can be applied to a vessel or a container assembled on the bottom. They are used to cut off the transition and to waterproof openings of pipes or containers in internally pressurized environment. Their shape is of high importance as the dome of the cap allows proper distribution of stresses cummulating at the end of the pipeline. On the contrary, flat end caps allow the pressure and stress to gather along welded edges.Our titanium end caps come in numerous shapes and forms: flat, cone, ellipsoidal or disc-shape, diffusion end caps as well as butt-welded and ones of various dome shapes.
Usage of titanium end caps
flat end caps

are used to clog the connection of water or other agents with neutral pressure in the system.

conical end caps

are used in low pressure or unpressurized reservoirs, where their cone shape allows for easy liquid removal from the tank/container.

ellipsoidal end caps have good mechanical properties, hence they are used in high pressure containers. They go with larger or smaller domes.
All our titanium end caps are certified to the applicable ASTM and MSS SP-43 specifications.
TITANIUM END CAPS

standards
ASTM B363 – ASME SB363
ASME B16.25
ASME B16.28
MSS SP-43
dimensions
external diameter: 1/2" – 24″ (21.34 – 609.5 mm)
wall thickness: sch 5S, 10S, 40S (STD), 80S (XS), 160S (XXS)
(1.65-59.51mm)
We provide product and material consulting. Let us know if you need any help!
Do you have questions? We have the answers!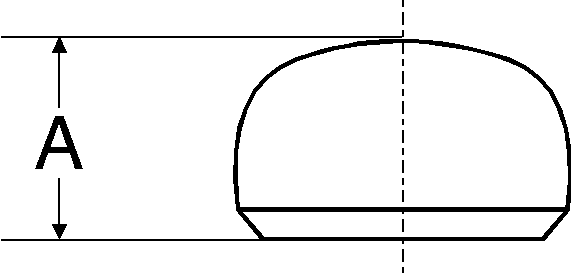 | | | |
| --- | --- | --- |
| NPS | External diameter | A (mm) |
| 1/2″ | 21.3 | 25 |
| 3/4″ | 26.7 | 25 |
| 1″ | 33.4 | 38 |
| 1 1/4″ | 42.2 | 38 |
| 1 1/2″ | 48.3 | 38 |
| 2″ | 60.3 | 38 |
| 2 1/2″ | 73.0 | 38 |
| 3″ | 88.9 | 51 |
| 3 1/2″ | 101.6 | 64 |
| 4″ | 114.3 | 64 |
| 5″ | 141.3 | 76 |
| 6″ | 168.0 | 89 |
| 8″ | 219.1 | 102 |
| 10″ | 273.0 | 127 |
| 12″ | 323.8 | 152 |
| 14″ | 355.6 | 165 |
| 16″ | 406.40 | 178 |
| 18″ | 457 | 203 |
| 20″ | 508 | 229 |
| 22″ | 559 | 254 |
| 24″ | 610 | 267 |